Nordic-Israeli GreenTech Academy
The academy took place online in the summer of 2021. All the sessions including presentations were recorded. You can access below.
If you are eager for more Nordic-Israeli collaboration stay tuned! The Nordic embassies in Israel are launching a new academy in fall 2021 focused on start-up development in rural areas. You can sign up by sending an e-mail to [email protected] with the name of the participants and the title 'Signup for Rural Tech Academy'.

---
About the Academy
The academy focused on how to accelerate the growth of Nordic GreenTech start-ups using Israeli best-practice within ecosystem building. More than 150 key Nordic stakeholders working with GreenTech start-ups in the Nordic region such as leaders of clusters, science parks, incubators, accelerators, investment funds and government bodies participated intensively.
Feel free to join our LinkedIn group if you are curious to learn more about Nordic and Israeli GreenTech and connect with the academy's participants.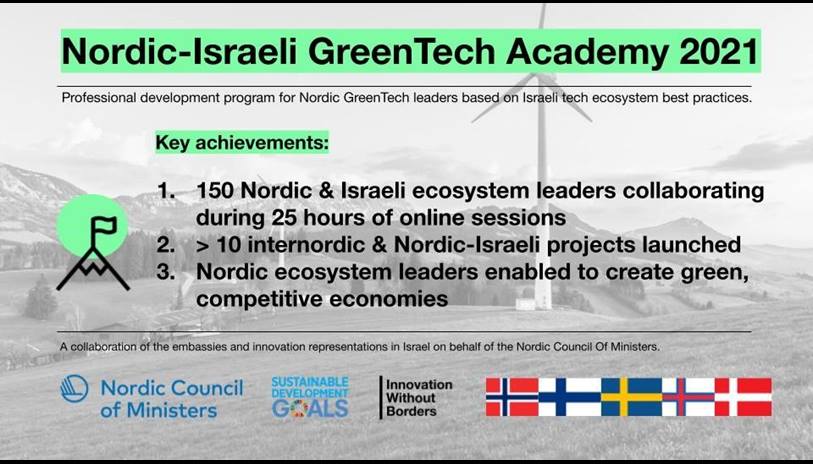 ---
Partners
The academy was made possible by a generous grant from the Nordic Council. It was executed by the embassies of Denmark, Finland, Norway, Sweden as well as the representation of the Faroe Islands in Israel in partnership with Vinnova and led by the Innovation Centre Denmark Tel Aviv.
We thank everyone involved for participating and contributing to a great program!
---
Program
The academy consisted of the following program:
3 highly practical tutorials on the latest topics in ecosystem building
3 interactive roundtables with Israeli ecosystem leaders
3 podcasts with Israeli ecosystem leaders
An invite-only mentoring program for the most dedicated 40 participants
---
Class Material
Kick Off Meeting
This session introduced the program, briefly focused on GreenTech in the Faroe Islands followed up by a case Study of the Israeli FoodTech ecosystem by Yoni Glickman from Peakbridge Venture Capital.
Tutorial 1

Uri Gafni from Quedma Innovation, a high profile professional education company working with leading Israeli ecosystem players, led the three tutorials. This session took a deep-dive into the components of a successful GreenTech innovation ecosystem using Israeli best-practice. Whereas this session was more strategic and high-level of character the other two tutorials were more tactical and specific.
Roundtable 1
Want to learn how to build regional high-tech ecosystems in non-capital regions? This recording contains a roundtable discussion with leading ecosystem builders as panelists.
Tutorial 2 and Roundtable 2
Starting with a talk by the Danish Ambassador, this tutorial is about how start-ups navigate in an innovation ecosystem in the best possible way based on the lessons from leaders in the Israeli innovation ecosystem. Uri Gafni led the tutorial. The roundtable discussion was about how to create impact based on these insights and featured speakers from Israel Innovation Institute and Smart & Clean Helsinki Metropolitan in Finland.
Roundtable 3
This session contains case studies of collaborations between the Nordics and Israel. Starting with an introduction by the Swedish Ambassador, the roundtable discussion featured ecosystem leaders from Sweden, Denmark and Finland.
Tutorial 3
The tutorial gave insights into how the Israeli ecosystem provides value-creation for start-ups and how they map the start-ups pains, gains and needs based on the business model canvas by Alexander Osterwalder.
Closing Session
The participants shared their thoughts and ideas for current and future Nordic-Israeli collaborations.
Mentoring Meetings
The mentoring meetings were mostly conducted in dedicated separate rooms which were not recorded. However Osnat Lautman and Adi Rosenfeld gave inspiring lectures on topics related to required skills for interacting with the Israeli and international technology ecosystems in a more in-depth fashion.
Mentoring Meeting 1 - with Osnat Lautman - Understanding Israeli business culture
Mentoring Meeting 2 - with Adi Rosenfeld - How to work cross culturally in business - a personal story
---
Podcast
As part of the academy we conducted podcasts with three key stakeholders in creating a positive environmental and social impact in Israel.


Yoel Cheshin
As part of the academy we made an in-depth interview with Yoel Cheshin, one of the biggest impact investors in Israel, to learn about the state of impact investing in Israel and how this is different from the Nordic approach to impact investing. Yoel is Chairman and Founder of 2B Group that invests in early stage startups with an environmental or social impact. Both for profit and non-profit.

Take a listen to the interview here.
Nir Shimony
TechForGood is a central actor in the Israeli innovation ecosystem within the field of environmental and social impact. They enable both positive impact and financial revenues though strategic partnerships and knowledge sharing. Hear CO-Founder and CEO, Nir Shimony, explain why social and environmental impact cannot be separated and what tools Israelis go to when they work with SDGs.
Take a listen to the interview here.
Inna Braverman

Founder Inna Braverman tells the story of how the Israeli GreenTech start-up Eco Wave Power found its way from Israel to the Nordic market and Swedish stock exchange.

If you are curious to learn more about Nordic-Israeli GreenTech take a listen to the podcast here!